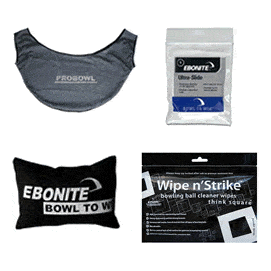 Bronze Value Pack
1 x Ball Buffer - for ball cleaning, before, during and after (worth £11.75)
1 x Ultra Slide or KR Slide Powder - to provide extra shoe slide if required (worth £3.29)
1 x Track or Ebonite Grip Sac - to keep your hands dry whilst playing (worth £7.99)
1 x Wipe n Strike - ball cleaner to remove dirt and grease. (worth £5.79)

A great value, value pack of essential bowling accessories. The ball buffer (or see-saw) is ideal for pre, during and post game play. The Ultra Slide can be used on bowling shoes to improve the slide, or in bowling ball holes to help the release, be careful to use sparingly though!!
The grip sack can add extra grip and dry your hand during gameplay. Finally the wipe n strike are very handy ball cleaners, for all types of bowling balls.
Please note, items sent may vary slightly from those shown depending on stock availability.
Loading...