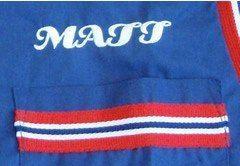 You can add embroidery as an item here, however, please allow up to 2 weeks for delivery. If needed sooner, please contact us ahead of ordering. Also if you need larger quantities than 1, we may be able to discount the costs a bit. If needed sooner than 2 weeks, please select the express delivery option.
**Please do not select the free delivery option, we can not offer this on printed/embroidery orders.**
We will need all details such as FONT, EMBROIDERY COLOUR, POSITION, please ensure once you've ordered that you fill out all the details on the Custom Bowling Shirts Page.
If this isn't received, then we will have to refund the purchase.
Please note: printing can often be faster and a little less expensive..
Loading...