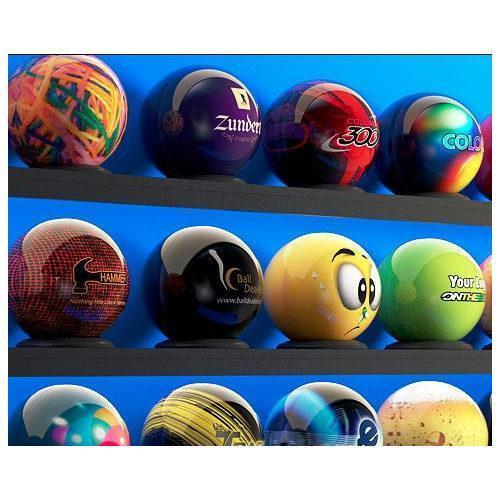 We're pleased to be able to offer custom bowling balls!!
Available in polyester (i.e. not reactive) in weights 8 - 15lbs. From start to finish it'll take about 2-3 weeks so please note this isn't a quick delivery.
To get started, either contact us or please purchase a ball in the desired weight, then we'll be in touch to request some details from you. Please have these ready if urgent, we'll email you once we've received the order.
Front and back background colours
Front and back images, must be minimum 500px by 500px but the bigger the better.
Please note the following customised bowling ball notes:
(added 14/5/21)

Custom Bowling Balls for personal use weighing 6-8lbs don't come with a warranty for use in a bowling alley. If for personal use they should last for many years but please enquire with us first.

Balls intended to be used as regular use house balls don't come with a warranty.


We are not allowed to customise the following:
Anything obscene, offensive, blasphemous, p-rnographic, sexually suggestive, deceptive, threatening, menacing, abusive, harmful, an invasion of privacy, supportive of unlawful action, defamatory, libelous, vulgar, violent, or otherwise objectionable


Anything that depicts celebrities or celebrity likenesses, regional, national or international leaders or politicians, current or former world leaders, convicted criminals, terrorists, newsworthy, notorious or infamous images and individuals, or any material that is vintage in appearance or depicts images from an older era.


Anything that you do not have a right to transmit or communicate under any contractual or fiduciary relationship or which infringes any copyright, trademark, patent or other intellectual property right or any moral right of any party. Any logos submitted must be accompanied by permission from the rights holders


Ball is undrilled. Please note, drilling is available at extra cost / lead time and subject to customers supplying measurements.

Loading...