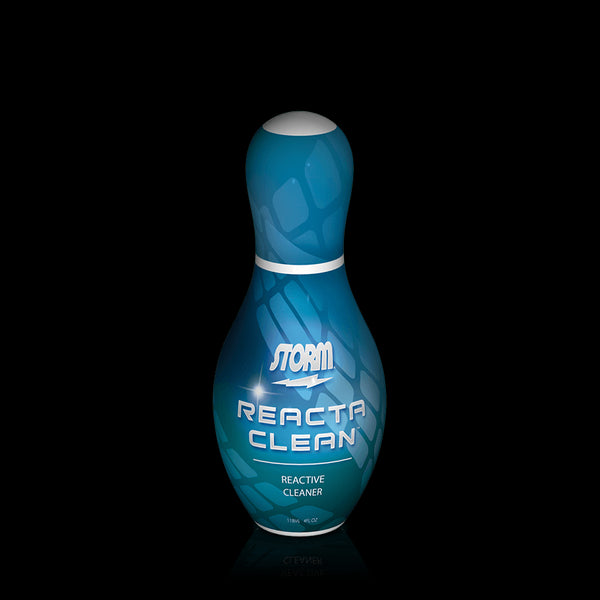 Storm Reacta Clean
Introducing Storm Reacta Clean, the ultimate bowling ball cleaner for serious bowlers.! Designed to enhance your performance on the lanes, Storm Reacta Clean is a powerful yet gentle cleaner that effectively removes oil, dirt, and grime from your bowling ball's surface, thus restoring its performance.
Storm React Clean is made with a proprietary blend of cleaning agents that are specifically formulated to dissolve oil and dirt without damaging the surface of your bowling ball. Its advanced formula penetrates deep into the pores of the ball to lift and remove the toughest stains, leaving your ball clean and ready to roll.
Storm Reacta Clean is easy to use - simply spray it onto your ball, let it sit for a few seconds, and wipe it off with a clean, dry towel. With regular use, Storm Reacta Clean will help extend the life of your bowling ball, maintaining its optimal performance for longer.
Whether you're a beginner or a seasoned pro, Storm Reacta Clean is a must-have accessory for any serious bowler. With its powerful cleaning capabilities, it can help you achieve a consistent and more predictable ball reaction, allowing you to focus on your game more.
In summary, Storm React Clean is a highly effective, easy-to-use bowling ball cleaner that is perfect for maintaining the performance of your bowling ball. It restores that "tacky" feeling to your bowling ball and is available with a flip-top applicator, suitable bowling ball cleaner for all types of bowling balls.
 Its advanced formula ensures that your ball is always in top condition, helping you to achieve your best on the lanes.
Small - 5oz bottle
Large - 40oz bottle (special order - please contact us for availability)
Check out other tenpin bowling ball cleaners.
Loading...