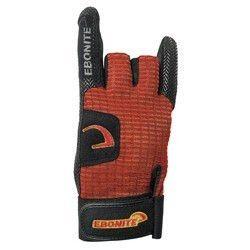 Bowling glove for extra revs and comfort
Bold and colorful, the Rx is the prescription for your needs.
Rx prevents calluses by protecting the hand and fingers
X stands for extra coverage of the special gripping compound, designed to provide increased tacky contact between the hand and the ball
Allows the hand to maintain contact with the ball longer, adding increased lift, turn and revs.
Wavy Spandex fabric finger gussets and glove back stretch for perfect fit and breathability
1 1/2" elastic hook and loop closure
All openings are leather lined for strength and durability
Easy to remove between frames
Ebonite React RX Bowling Glove: Available for right hand only
Loading...